In-Office Enamel Care
Clinical procedures such as mechanical tooth cleaning (PMTC), bleaching and orthodontic work can microscopically damage tooth enamel, causing surface microfissures, or in the case of long-term use then removal of orthodontic brackets, subsurface white spot lesions and surface roughness when the brackets are removed. APAPRO professional-use enamel-restorative paste, containing a high-concentration of nano-hydroxyapatite, offers a solution to these problems when applied as a final step after such procedures, especially when a nano<mHAP> toothpaste such as APAGARD or APADENT is also recommended to the patient for daily use.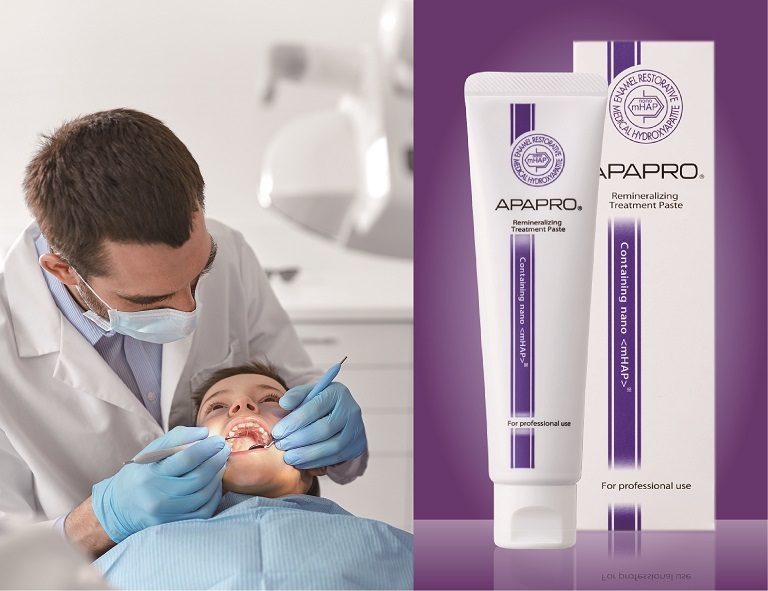 By supplying the mineral necessary to restore surface smoothness and remineralize white spots, APAPRO not only prevents caries, but also protects against post-bleach hypersensitivity and early recurrence of stains, and creates a smooth, fresh feeling in the mouth that patients can immediately acknowledge. In Japan, this is leading to a new approach in preventive dentistry: the advent of painless, even pleasurable visits to the dentist for regular professional cleaning and mineral replacement therapy . . . a newly emerging concept known as 'Treatment Care.'
Recommended Indications and Suggestions for Use
APAPRO is recommended for the following clinical applications:
- AFTER PROFESSIONAL TOOTH CLEANING (SCALING or PMTC)
- AFTER BLEACHING
- DURING & AFTER ORTHODONTIC TREATMENT
- WHITE SPOT LESIONS / INCIPIENT CARIES
- DENTINAL HYPERSENSITIVITY
- INCIPIENT ROOT CARIES
- CRACKING, ATTRITION & NATURAL SURFACE DAMAGE
- PROTECTION FROM STAINS
- AGING TOOTH CARE
- GENERAL MAINTENANCE
For more information on APAPRO please contact us under info@sangi-eu.com.