Anti-sensitivity Type
60g
Yuzu* Mint Flavor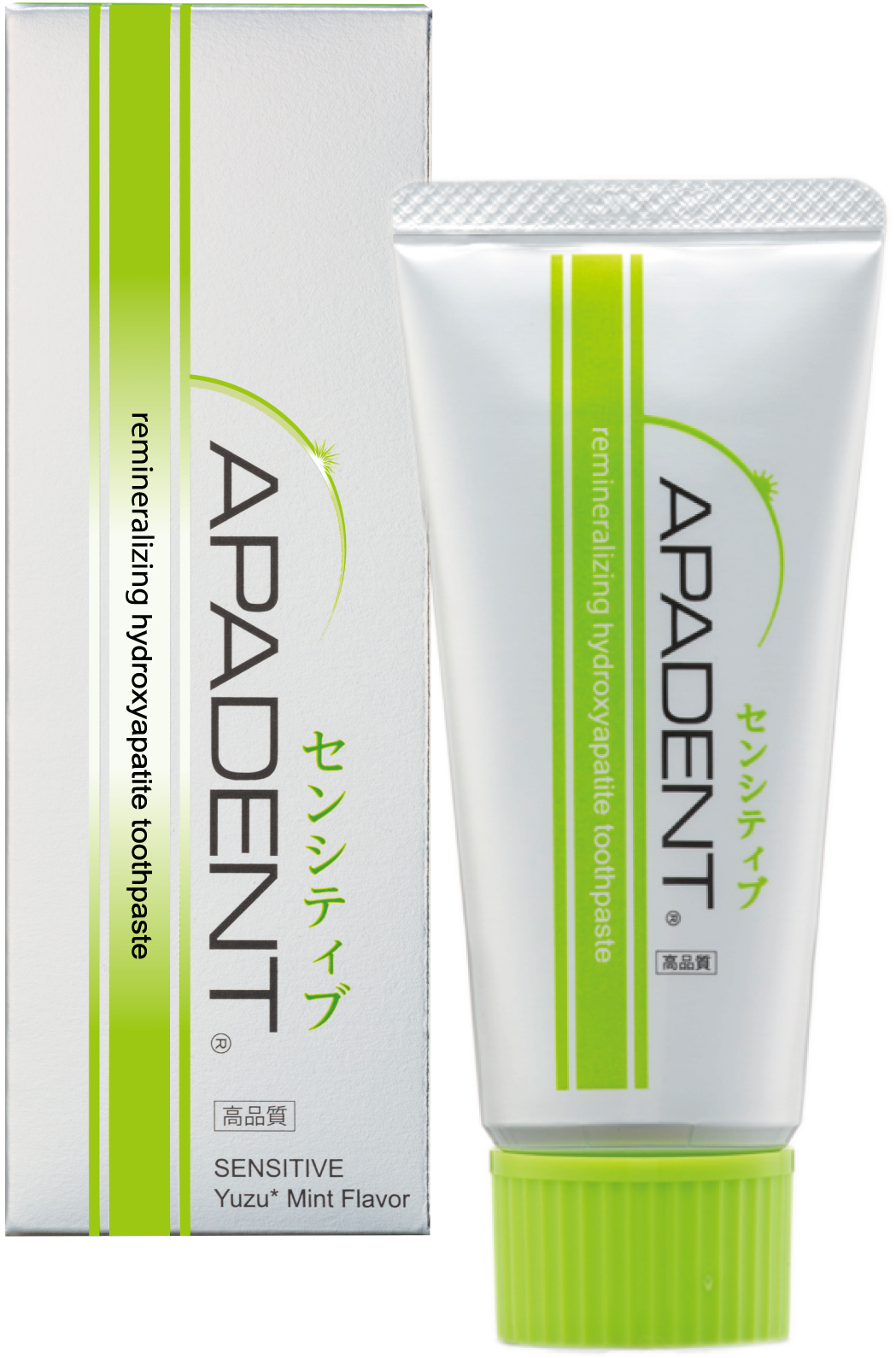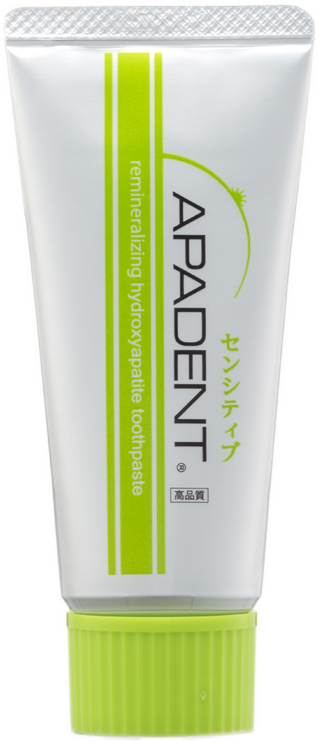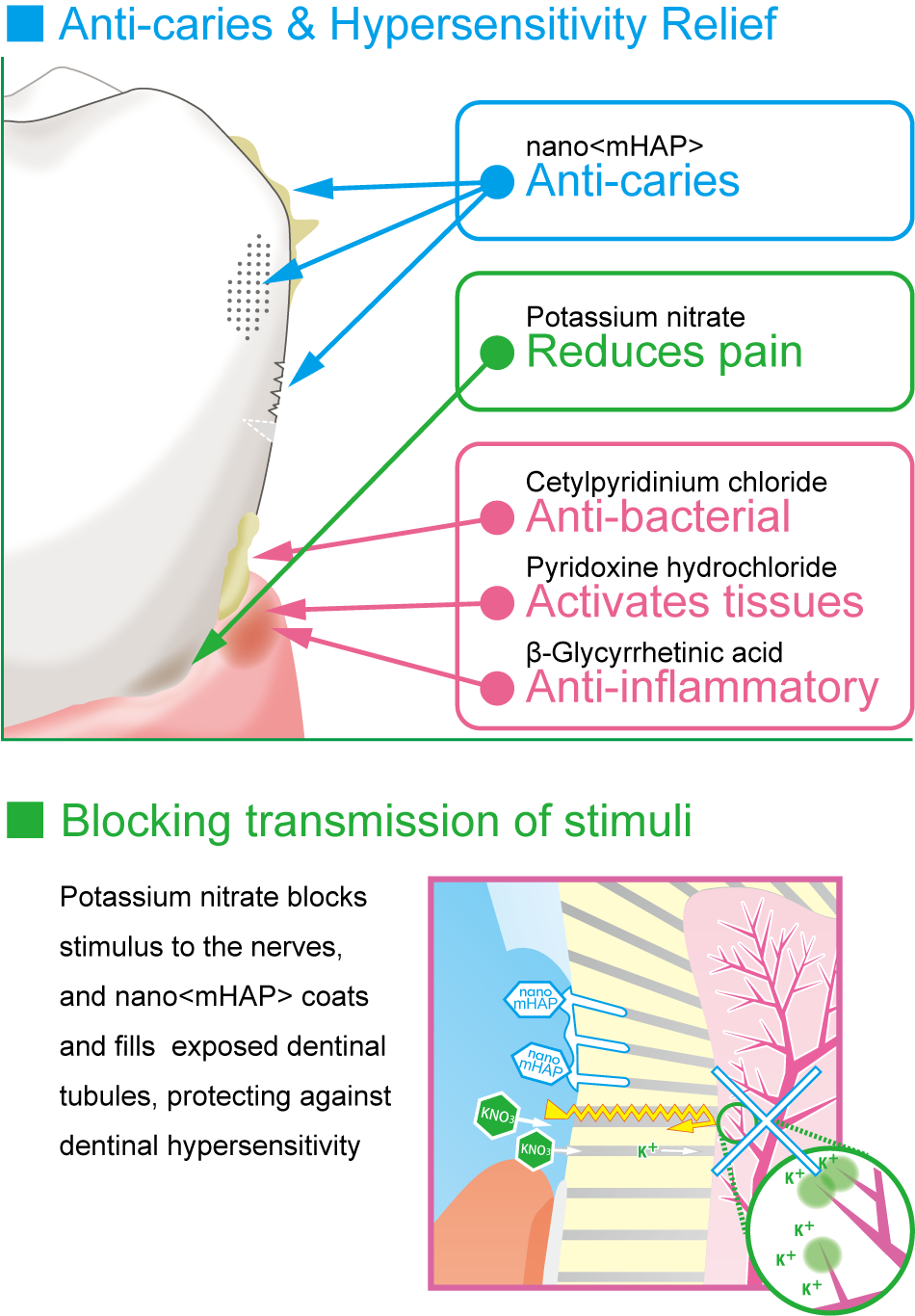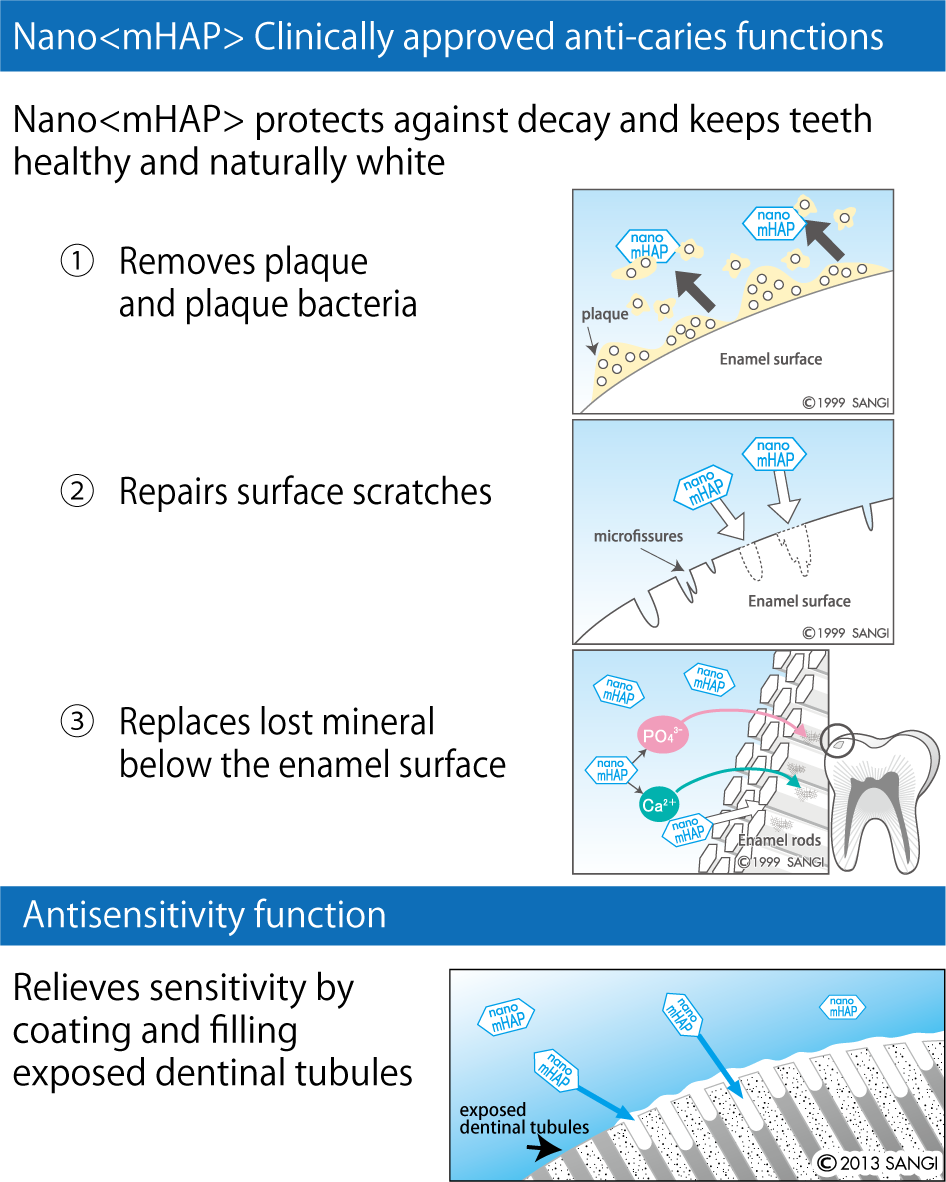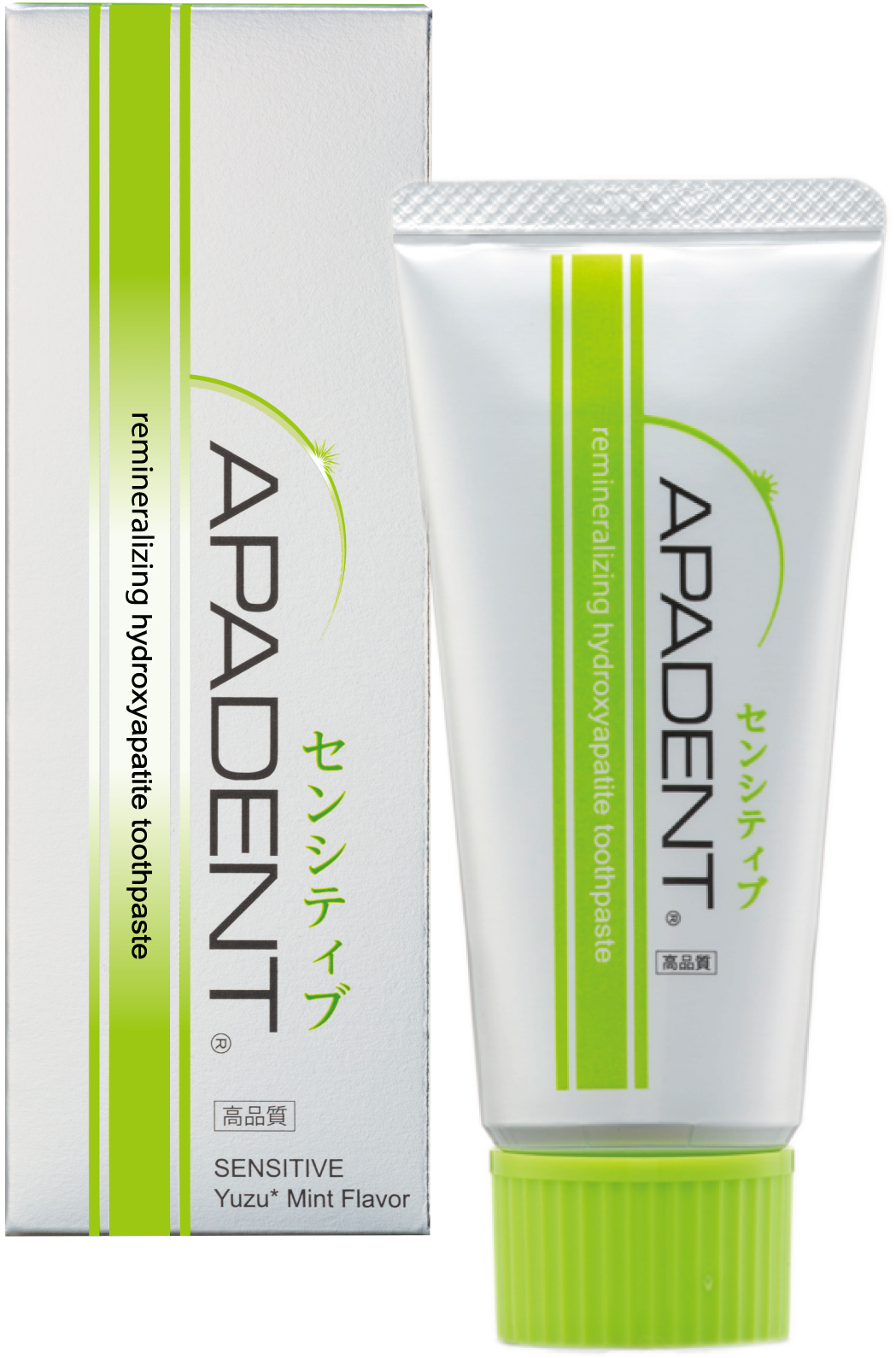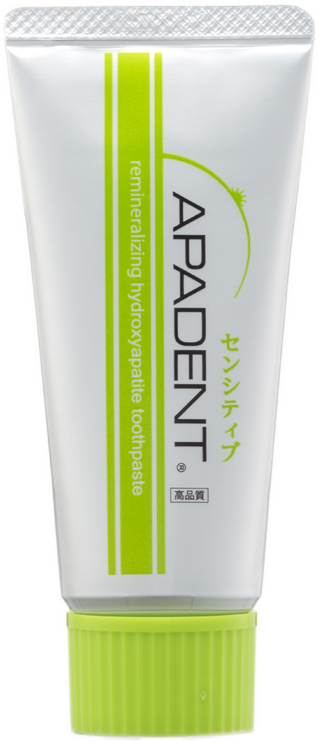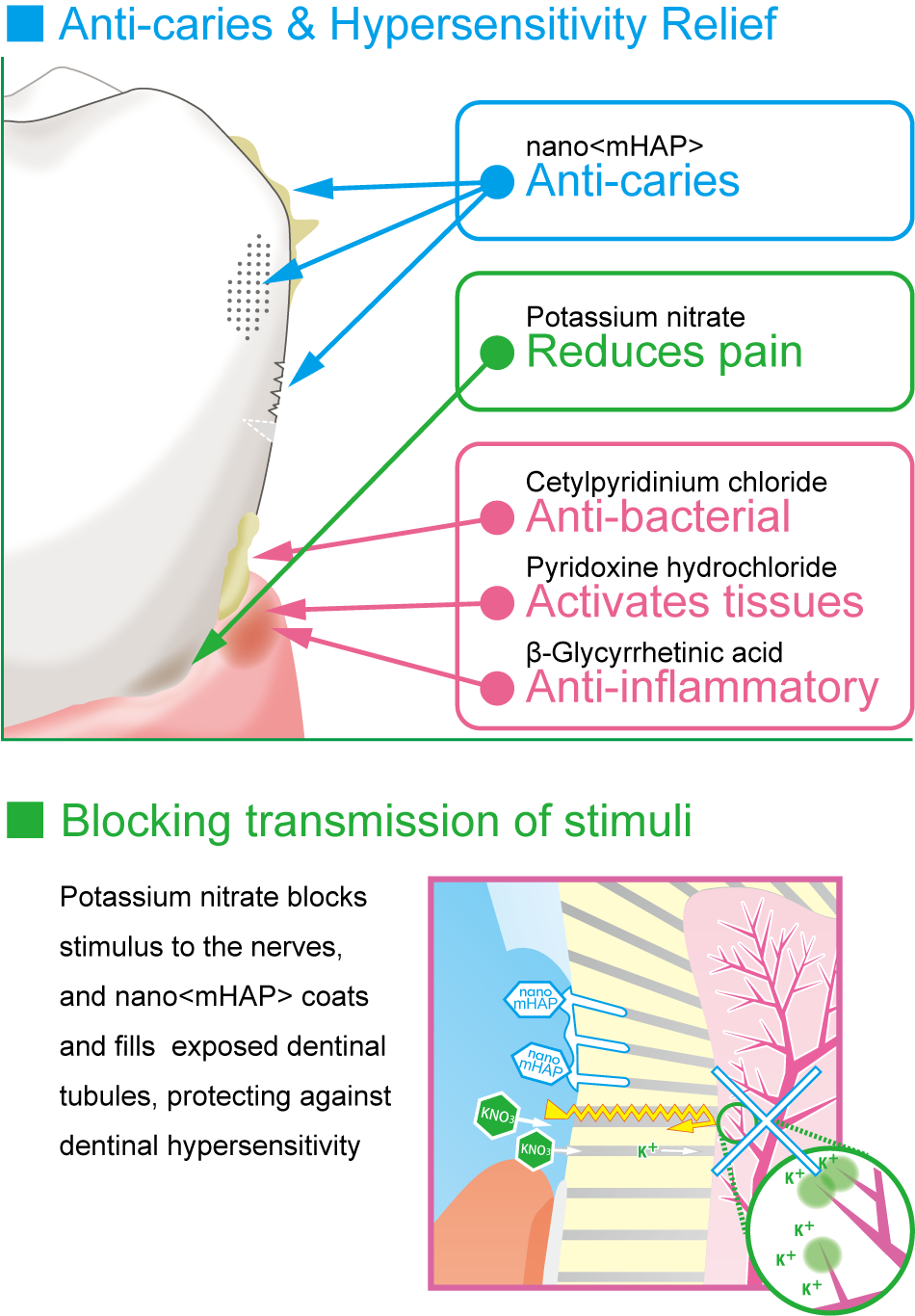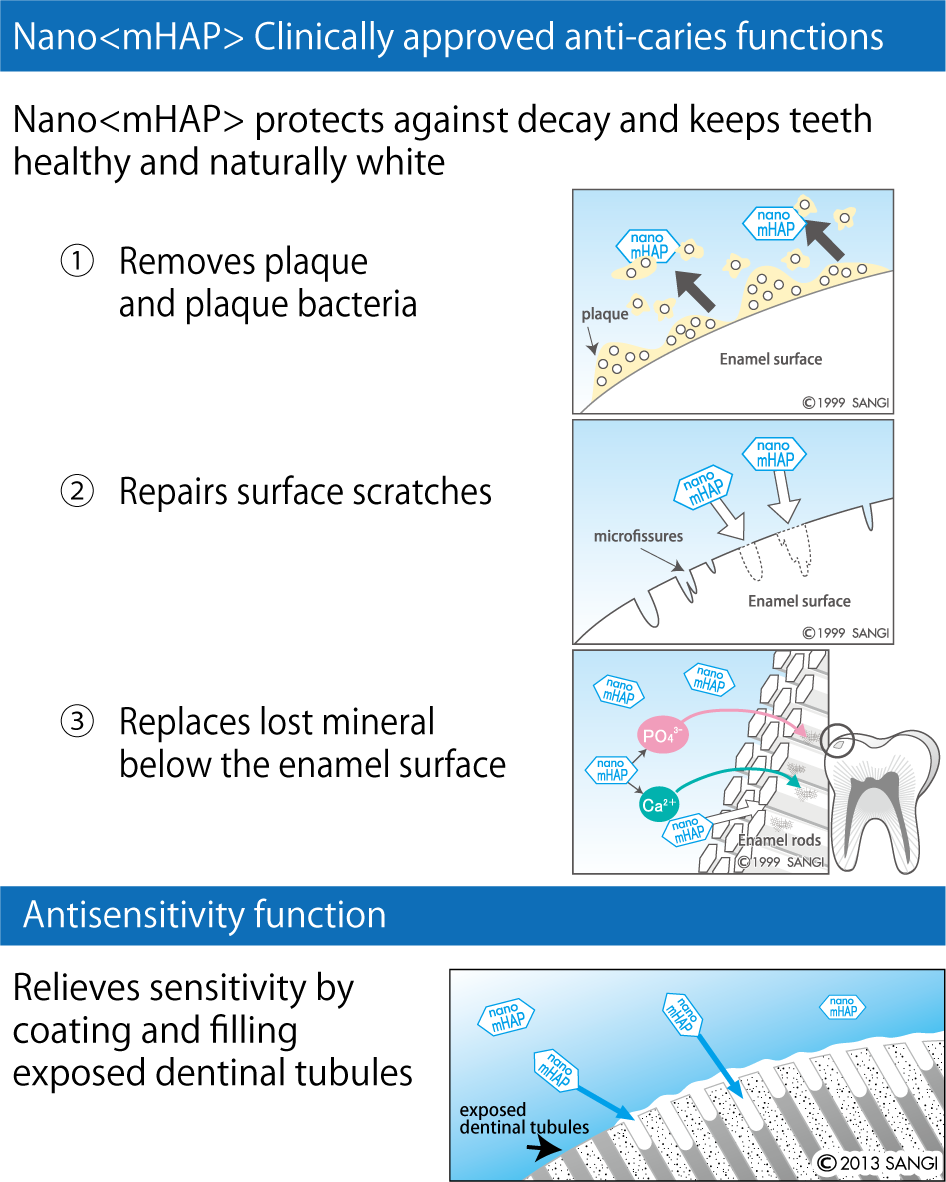 Contains both nano<mHAP> and potassium nitrate for additional relief from hypersensitivity.

*Yuzu = Japanese citrus fruit
APADENT SENSITIVE, though still offering the anti-caries and whiteness enhancing benefits of nano<mHAP>, is focused specifically on hypersensitivity, to which it offers a dual approach, providing (1) nano<mHAP> to occlude and form a protective coating over exposed dentinal tubules, preventing access to the tooth nerve by external stimuli such as heat and cold, and (2) potassium nitrate, a nerve-blocking agent, which intercepts and prevents transmission of external stimuli to the nerve. APADENT SENSITIVE also has a refreshing Japanese citrus fruit (Yuzu) and mint aroma.
(INCI Name)
AQUA, DICALCIUM PHOSPHATE, GLYCERIN, HYDROXYAPATITE (NANO), SILICA, POTASSIUM NITRATE, PEG-8, SODIUM LAURYL SULFATE, CELLULOSE GUM, AROMA, TRIMAGNESIUM PHOSPHATE, PVP, SODIUM LAUROYL SARCOSINATE, SODIUM SACCHARIN, GLYCYRRHETINIC ACID, CETYLPYRIDINIUM CHLORIDE, PYRIDOXINE HCL, LAURYL DIETHYLENEDIAMINOGLYCINE HCL
APADENT SENSITIVE offers all the basic oral care benefits of nano<mHAP>, including anti-caries and natural whitening enhancement, but is designed and recommended especially for the immediate relief and long-term prevention of hypersensitivity arising from dentinal tubule exposure. Main indications for use are:
Relief and prevention of hypersensitivity
Protection against caries
Prevention of gum disease
Avoidance of bad breath
Enhanced natural tooth whiteness
For best effect from nano<mHAP>toothpastes, we recommend that you
Place a small amount (1 - 1.5 cm) on a toothbrush
Brush your teeth and gums gently but meticulously for about 3-5 minutes, ideally after each meal (3 times/day is recommended)
Rinse lightly and spit out after brushing, so that any residue of nano<mHAP> remaining will enrich your saliva and continue its work
Wir durften diese Zahnpasta vom Hersteller kostenfrei testen. Wir erhielten die Zahnpasta und probierten diese gleich aus. Von Geschmack ist sie sehr angenehm. Man hat einen langen frischen Atem was ich sehr schön finde. Mein Mann fande sie auch sehr angenehm von Geschmack. VIELEN Dank für den test
Geschmack lässt zu wünschen übrig
Das Produkt wurde mir vom Hersteller umsonst zum Testen zur Verfügung gestellt. Der Geschmack der Zahnpasta ist verbesserungswürdig: mir ist er schlichtweg zu intensiv. Das Oberflächengefühl ist etwas gewöhnungsbedürftig. Die Zähne fühlten sich jedoch weniger empfindlich an. Weder Kariesschutz noch aufhellende Wirkung lassen sich nach dem Testzeitraum von 4 Wochen beurteilen. Als hochwertig empfinde ich die Aufmachung des Produktes. Zur UVP würde ich das Produkt nicht nachkaufen.
Wow, at first when I put the toothpaste on the brush I didn't think much as other toothpastes give off a strong minty smell, but as soon as I started brushing , it felt like I was rubbing silk on my teeth. Although there was not much flavour, the best part is when you rinse your mouth. It's as if the flavour becomes activated when rinsing and leaves your mouth feeling sooo fresh. I received this toothpaste for free, and although it's expensive, I would say it is worth it. I have sensitive teeth too but using this toothpaste, I could eat anything.
I recieved this item for free and was asked to test. I have to be honest, it looks like a great quality product and i understand the science behind the claims as the in box information is quite good, but the mint one i was given tastes disgusting. Its more of an off trading lime/mint flavour that made me want to spit it out. However i persevered. I did think after the very first use that my teeth looked a little brighter, and definately by the end of the first week. I assume this is beside its improving the enamel on the teeth as explained in its information. The texture of the toothpaste is grainy, a little like bicarbonate and feels like it is scouring your teeth not adding to them. My mouth didn't feel fresh after using this toothpaste, and my teeth have felt cleaner using other products. In terms of sensitivity, i think it helped a little, cold drinks didn't feel as sharp as before. It would be fair to say that this toothpaste probably did improve your enamel by re mineralising, and certainly brightened mine after a week of using twice daily, but i personally couldn't tolerate the taste longer than that. Therefore its not a product i would buy unless they were able to change the flavour and reduced its price.
Das Produkt habe ich zum Testen umsonst bekommen. Das Produkt hat mir sehr gut gefallen. Zahnpaste stärkt den Zahnschmelz und schützt die Zähne. Ein erfrischender Mix aus Zitrone und Minze sorgt für ein frisches und sauberes Mundgefühl für mehrere Stunden. Meine empfindliche Zähne sehen und fühlen sich sauber und gesunder aus. Also...reinigt, erfrischend und schützt...ich bin sehr zufrieden. Aber den Preis finde ich überteuert. Vielen Dank.
Geschmack überzeugt nicht!!!
Das Produkt wurde mir vom Hersteller umsonst zum Testen zur Verfügung gestellt. Schon beim ersten Zähneputzen überzeugte mich der Geschmack der Zahnpasta nicht. Außerdem fühlen sich die Zähne nach dem Putzen etwas unangenehm an. Insgesamt ein eher unangenehmes Mundgefühl. Der Kariesschutz lässt sich nach 4 Wochen nicht eindeutig beurteilen, da ich davor noch keine Probleme mit Karies hatte. Trotz der beworbenen innovativen Inhaltsstoffe halte ich den Preis pro Tube für viel zu hoch.
Upon receiving this product for free I was keen to see how it performed vs other toothpastes I have used previously. I was really surprised at the taste which was not too strong as I have experienced with others and straight away could tell it was a high quality product. When brushing it was sensitive to my teeth and left my mouth and gums feeling clean and I noticed I had a much longer lasting freshness for my breath. I was interested to learn about the cavity protection and the way it fills your teeth and improves whitening at the same time. I will certainly be looking to continue to use the product again!
I was given this toothpaste to test for free. While I found it has made my teeth feel clean and a little less sensitive, I didn't notice any change to the whiteness of my teeth. The taste of the paste is not as minty fresh as the title would suggest it would be. There is an aftertaste that you quickly get used to. However, I did find the need to use a strong mint mouthwash afterward to ensure that I had that day long minty flavour that I prefer. My family have used the paste as well. They like it more than I do so this is something that we might purchase in the future.
I received the product for free, I was impressed with the whitening effect by 1st time I have used this product, your teeth feel super clean and smooth and gives you a refreshing mint breath which I like plus long-lasting effective for sensitive teeth and improving with each use and product your teeth against cold and hot food or beverage. It offers full teeth care and works perfectly with an electric toothbrush.
High quality makes teeth feel smoother
I received this product for free from the manufacturer. Its clearly high quality in good quality silver packaging. I used it for a month with an electric toothbrush, a small amount is sufficient but you don't get a lot of foaming which I don't mind. It made my teeth feel smoother within a couple of days although it did make me feel like they looked a bit transparent too. It has a fresh mildly minty taste called yuzu which I found pleasant and it kept my breath fresh. Its helped sensitivity a similar amount to other sensitive toothpastes. I have not noticed and change to the whiteness of my teeth. I've had no teeth problems while using it so it must be protecting me from caries. Overall a high quality product.
YOUR BENEFITS
Shipping within 1 day of order confirmation
Free shipping for orders of 80.00 EUR or more
Loyalty rewards with our FRIENDS CLUB
Naturally white and healthy teeth